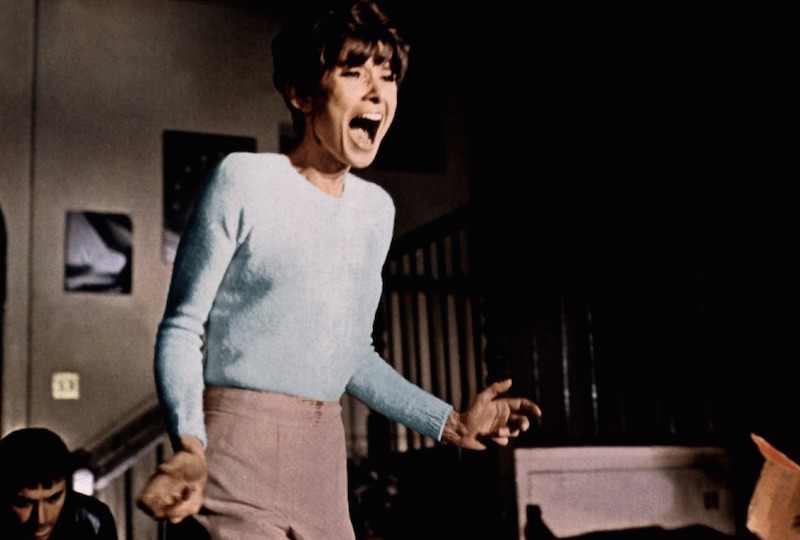 Whether it's blood and gore or creepfest thrills or just a classic monster movie – what do these movies all have in common? Enough scares to last all year long.
If you're looking for classic horror movie favorites or searching out new frightful films for the Halloween season, here are a few ideas for when you want to jump and shiver.
It's a mix of popular fright favorites, horror classics, psychological thrillers and hidden gems, from the silent era into the 1960s. What would you add to the list? What would you remove? Share your thoughts @ReelOldMovies on Instagram.
While in more modern interpretations, the phantom is portrayed as a singing misdirected figure, the 1925 silent movie version showed the phantom is all his most obsessed and grotesque glory. Lon Chaney, the Man of a Thousand Faces, created the Phantom's skull-like look himself and the big "reveal" scene would make audiences recoil for generations.
Robert Mitchum is a serial killer preacher who hunts down and threatens two children in his murderous quest for hidden money. The infamous "love" and "hate" tattoos across his hands remains a deliciously villainous movie image. The terrifying look at evil was the only movie directed by actor Charles Laughton, and also stars Shelley Winters and silent film favorite Lillian Gish.
"Psycho" tops the lists of most thriller, horror, psychological dramas, but it's also tops as just a great film, period. Now enmeshed in pop culture, the 1960 Alfred Hitchcock-helmed film influenced movies, art and even memes since. Hitchcock worked hard to keep the ending a secret so that audiences would be suitably shocked.
Audrey Hepburn was in a scary movie? Yes, and it's thrilling! The elegant and iconic "Breakfast at Tiffany's" actress stars as a blind woman terrorized in her home by a trio of men. It's edge-of-the-seat storytelling the whole way, earning Hepburn an Academy Award nomination as well as box office success. (Pictured at top)
The prototype of the serial killer movie, "The Cabinet of Dr. Caligari" is a silent German classic and is considered one of the first (if not THE first) great movie of the horror genre. A mysterious and deranged doctor arrives in town with Somnambulist Cesare (Conrad Veidt). Gruesome murders ensue.
What lurks in the shadows is terror in this loose adaption of the Dracula tale. The atmospheric scenes, the tension, the haunting performances – director F.W. Murnau's "Nosferatu" is a silent horror movie classic that has shaped the genre – and all movies – even today.
+ 1931's "Dracula" – Bela Lugosi, Tod Browning, Universal. Enough said.
The same year as "Dracula," 1931's "Frankenstein" would cement Universal as the studio that owned horror. Scientist assembles body parts into a monster; mayhem ensues. Boris Karloff as Frankenstein's monster creation is an iconic image that transcends the movie, and is what most people think of when they think of Frankenstein.
Audiences have loved zombies for a long time, and "Night of the Living Dead" fed that ghoulish need as its main characters are trapped in a house, attacked by the flesh-eating monsters. As Variety put it at the time of the movie's theatrical release: "Until the Supreme Court establishes clear-cut guidelines for the pornography of violence, Night of the Living Dead will serve nicely as an outer-limit definition by example."
What is the horror genre without obsessed doctors? In this French film of gore and ghastly visuals, a doctor attempts to fix his daughter's disfigured face with disastrous consequences.
Everyone's favorite horror auteur Tod Browning helms this horror classic which involves carnival sideshow acts banding together in a murder plot of a dwarf. But things don't go as planned. The controversial movie was banned in many theaters and countries.
Before the hills were alive with "The Sound of Music" for Robert Wise, he directed a horror movie about a house of the dead. Tagline: "You may not believe in ghosts, but you cannot deny terror." Indeed!
In "Gaslight" -- which coined the term "gaslighting" -- Ingrid Bergman is the wife who fears she is going mad in Victorian London, "helped" along by her new husband played by Charles Boyer. The movie of mental manipulation is harrowing psychological thrills at its finest.
The movie is really multiple horror stories, structured as tales told by guests at a remote country estate. What could go wrong? The ventriloquist who thinks his dummy has come to life is among the stories that continue to disturb and haunt audiences today.
* This post contains affiliate links. If you use these links to buy something we may earn a commission. Thanks.